WR Gloves

Best Wide Receiver Gloves
In professional and amateur football, the role of the wide receiver is of utmost importance. Therefore, choosing the best football gloves for wide receivers is very important. A pair of wide receiver gloves is not only a necessary accessory but also a tool to help the player complete difficult catches in the best way possible while protecting his hands from injury.
In the article below, we provide reviews of 5 of the best gloves designed for wide receivers that are currently in the market. It has information on the key considerations that you can use when buying which will make finding the right one for you easier.
Related Articles: "Football Equipment every player should have" "How To Make Football Gloves Sticky"
The 5 Best Football Gloves for Wide Receivers for 2023
When it comes to searching for the best football gloves for wide receivers, one important aspect to remember is that this specific position demands the use of specific gloves that offer the highest level of comfort, tackiness and protection. With the best WR football gloves, you can boost your performance and game durability.
In addition, wearing a good pair of WR gloves will increase your chances of enjoying the entire time you're playing football.
Best Football Glove for Wide Receivers Reviews 2023 
2) Nxtrnd G1 Football Gloves
Step your game up with the G1 Receiver Football Gloves. The G1 glove features their innovative NXT-Grip formula which makes it one of the tackiest palms on the market today. Designed from lightweight and breathable materials, this glove allows more performance, better ball control, maximum comfort and extended durability across the palm and backhand areas.
In addition, the G1 wide receiver gloves are made for all-weather conditions. The materials used make it feel like a second skin. Being extremely breathable, your sweat will be wicked away quickly and because of the NXT-Grip palm, the super sticky grip will allow you to catch the ball at all times and avoid fumbles.
Other key features are it's durable and sticky grip that meets SFIA, NFHS, and NCAA standards. Available in multiple sizes and colors, we recommend this gloves to all wide receivers looking for an edge over their competition and better ball control.
Pros:
Extremely Sticky Palms
Tag on Wrist for Easy Identification
Available in Youth and Adult Sizes
Cons:
Some Athletes Would Like To Have Graphics On The Gloves
2) Nike Vapor Jet 7.0 Receiver Gloves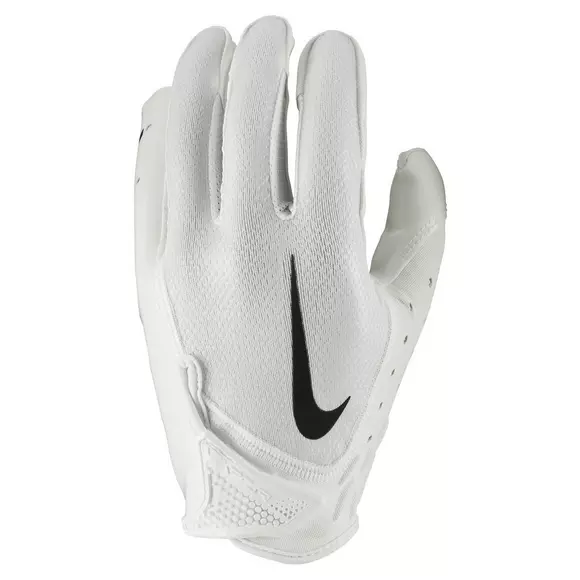 These gloves come in both men's and youth sizes so you're ready for practice and the game. Featuring a lightweight padded grip, your hands will stay comfortable through every quarter on the field. The Vapor Jet 7.0 gloves come in a variety of color options to match your team and look your best on game day.
The materials used is moisture wicking and features extra ventilation for more breathability keeping your hands cool and dry in the most harsh conditions.
Moreover, unlike other receiver gloves that feel thin but lack protection, Nike has managed to combine durable padding in the pinky with a lightweight skin tight feel. This glove will have you holding the ball with 100% grasp while looking good at all times.
Pros:
Adjustable Closure
Multiple Colors Available
Sticky Magnigrip Palm
Breathable Material
Cons:
Hand Wash Only
Less Grip when Dirty
Material Wears with Time
3) Cutters Rev Pro Receiver Gloves
Cutters are considered one of the best performance gloves in the market. With these gloves, you will be able to catch the ball and keep it in your hands without fumbling and dropping it. The Rev Pro palm features their proprietary C-Tack grip with cabretta leather on the backhand for an extended life span.
In addition to the tackiness of the C-Tack material, the Rev Pro's can be washed and restored to perfection just by wiping the surface of the glove with a humid cloth. This feature eliminates issues due to excessive dirt or mud and makes them perform in all playing conditions.
The blend of synthetic materials and leather on the backhead area prevent tears and give the hands a lightweight, flexible and skin tight feel while remaining sturdy enough to support your wrist and prevent injuries.
Pros:
Very Durable
Machine Washable
Sticky Grip
Feels Great on the Hands
Cons:
4) Under Armour F7 Receiver Gloves
From the first moment you put on the UA F7 gloves, you'll notice the incredible compression and tacky grip. With features like their GlueGrip and ventilated cuffs, these gloves are sure to provide a comfortable fit while catching the ball in practice or during a game.
Designed with Under Armour's unique HeatGear material, playing in the heat is no issue as the material wicks moisture away from the skin to prevent your hand from slipping and provides a better fit.
In addition, the glove's palm features an impressive diamond grip pattern which maximizes opportunities to catch and grip the ball and remains sticky throughout its lifespan. Being thin in material, these gloves are perfect for skill positions that demand excellent ball feel with extreme precision and will help you perform at your highest potential.
Pros:
Sticky UA GlueGrip
Ventilated Cuff
HeatGear Technology
Cons:
Less Ventilation on the Palm
Don't Accommodate Wide Fingers
5) Adidas ADIZERO 11 Receiver Gloves
Adidas is known for making the most lightweight gloves on the market. The ADIZERO 11 glove does so by featuring well ventilated compression materials that keep the glove cool, dry and light. The palm is made from their GripTack material which reduces fumbles and makes one-handed-catches possible.
On the topic of comfort, the Adizero 11 is made from climacool and techfit materials that allow flexibility and stretchiness on the backhand that is also moisture-wicking. On the cuff, this glove features neoprene for additional comfortability and comes in a vast selection of colors to make sure they look as good as they feel.
The Adidas Adizero 11 provides lasting durability and comfort through every quarter. If you're looking for a reasonably priced football glove built for performance, the Adizero 11 is for you.
Pros:
Flexible Design
Enhanced Grip
Available in Multiple Colors
Moisture Wicking Fabric
Cons:
Smaller Wrist Adjustability Range
Read More:
[ BEST-SELLERS ]
MOST POPULAR