What are the stickiest gloves for football?

One of the most important pieces of equipment a football player can practice and play games with are football gloves. From sticky receiver gloves to padded lineman gloves, choosing the pair that is best for you isn't the most simple task.
Even though gloves are not a requirement, most top level football players use them to protect their hands and make gripping/catching the ball easier. In the article below, we've put together a guide to help you find the best sticky football gloves with grip.
1) G2™ FOOTBALL GLOVES2) G1™ FOOTBALL GLOVES3) NIKE VAPOR JET 7.0 RECEIVER GLOVES
What are the stickiest gloves for football?
G2™ Football Gloves
With these gloves, you will be able to catch the ball and keep it in your hands without fumbling and dropping it. The G2 Pro palm features their NXT-grip with meshed material on the backhand for an extended life span.

In addition to the tackiness of the NXT-Grip material, the G2 Pro's can be washed and restored to perfection just by wiping the surface of the glove with a humid cloth. This feature eliminates issues due to excessive dirt or mud and makes them perform in all playing conditions.

The blend of synthetic materials on the backhand area prevent tears and give the hands a lightweight, flexible and skin tight feel while remaining sturdy enough to support your wrist and prevent injuries.
G1™ Football Gloves
The G1 glove features their innovative NXT-Grip formula which makes it one of the tackiest palms on the market today. Designed from lightweight and breathable materials, this glove allows more performance, better ball control, maximum comfort and extended durability across the palm and backhand areas.

In addition, the G1 wide receiver gloves are made for all-weather conditions. The materials used make it feel like a second skin. Being extremely breathable, your sweat will be wicked away quickly and because of the NXT-Grip palm, the super sticky grip will allow you to catch the ball at all times and avoid fumbles.
These gloves meet SFIA, NFHS, and NCAA standards. Available in multiple sizes and colors, we recommend this gloves to all wide receivers looking for an edge over their competition and better ball control.
Nike Vapor Jet 7.0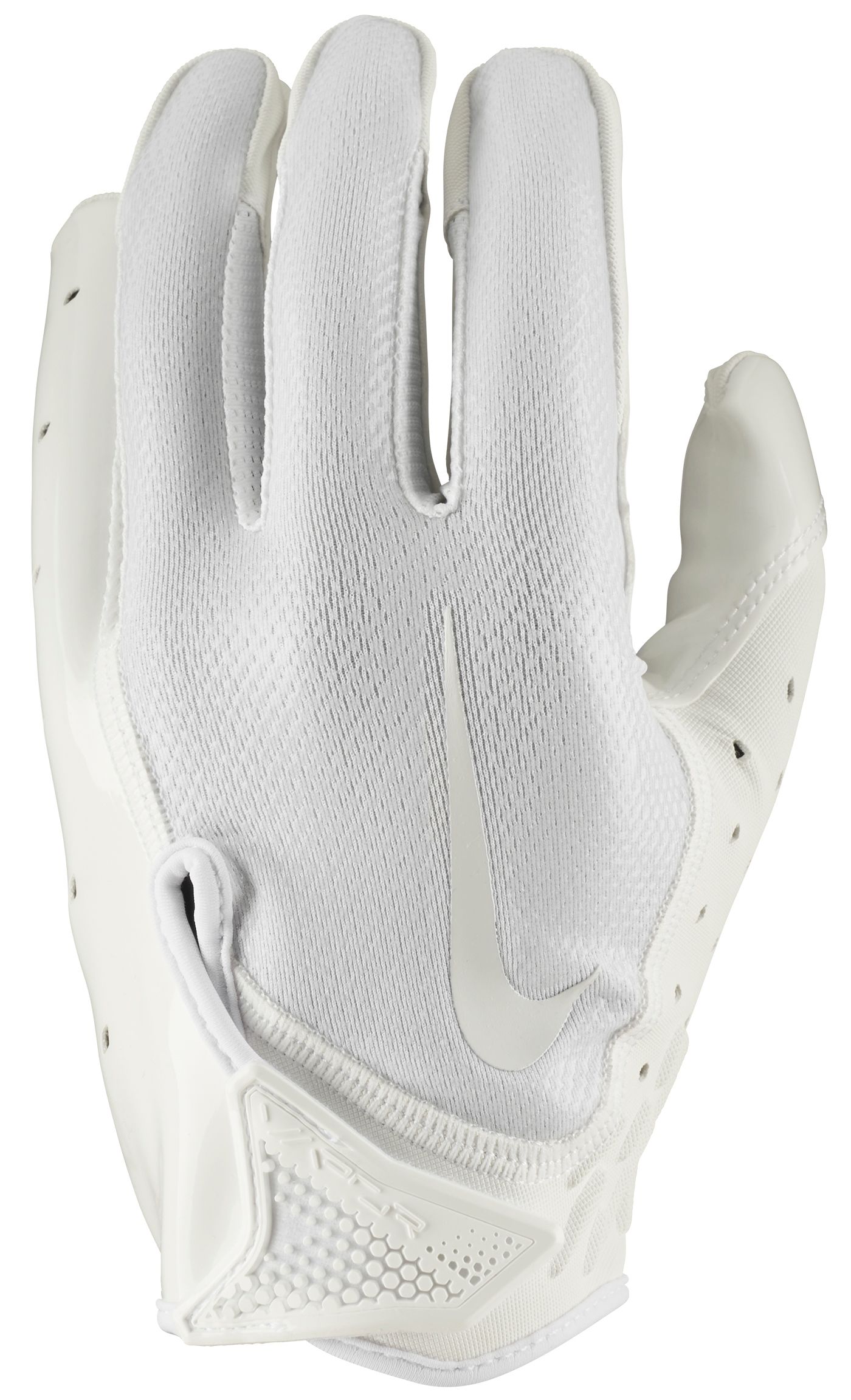 Featuring a lightweight padded grip, your hands will stay comfortable through every quarter on the field. The Vapor Jet 7.0 gloves come in a variety of color options to match your team and look your best on game day.

The materials used are moisture wicking and feature extra ventilation for more breathability keeping your hands cool and dry in the most harsh conditions.

Moreover, unlike other receiver gloves that feel thin but lack protection, Nike has managed to combine durable padding in the pinky with a lightweight skin tight feel. This glove will have you holding the ball with 100% grasp while looking good at all times.
Do football players wear sticky gloves?
Yes. As material technology progresses, football gloves with sticky palms have become increasingly more popular amongst football players. For Quarterbacks, Wide Receivers, Running Backs, and more, having a grip that can catch more passes is critical. Especially during a cold playoff game in December when weather conditions make it difficult to catch a football, keeping your hands warm and having extra grip are some of many advantages sticky gloves can deliver.
How do you get football gloves to stick?
If you're looking to be one of the greats, you need to make sure your grip is one of the best. Whether you are a quarterback, wide receiver, or lineman, you can follow these 5 simple tips on how to make football gloves sticky without breaking the rules.
1) Use water or Spit on your football gloves
The spit method works best when your gloves are dry. For best results, wait for your gloves to be completely dry before spitting on the palm. We suggest removing the excess moisture by wiping your gloves on your pads. Another good alternative is using water from your water bottle. This method can be repeated throughout the game to maintain glove stickiness.
2) Use wipes
This method is best used before your game. Simply take baby or Clorox wipes and wipe down your gloves from your palm to the fingers. You can check the grip by rubbing your gloves together.
3) Dry in the sun
The method is great if you have 2 pairs of gloves and can rotate when one becomes sweaty. Wide receiver, lineman, and quarterback gloves are hard to keep sticky if they are sweaty. For the method to work well, all you have to do is put the sweaty pair in the sun with the palm facing upwards. The sun will dry the palm and guarantee a better grip after an hour or two.
4) Use specifically designed adhesives
It's important to note that this method is not commonly allowed. Adhesive such as pine-tar are designed to make your grip tackier on game day. We suggest that you check with your league's rule book to see what substances are permitted.
5) Have 2 pairs
If you have 1 pair of gloves for game day and one for practice, you will be able to prolong the stickiness of your gloves and worry less about fumbling the ball.
What do football players use to make their hands sticky?
When Odell Beckham JR made his incredible one-handed catch with defensive pass interference in January 2015, everyone wanted to know what gloves he wore. It may surprise you to hear that he was wearing the standard Nike Vapor Jet 3.0 glove.
So why was his grip so sticky?
There are many methods to maintain your glove's grip. The 2 best methods are sun drying the palm after every use and alternating between 2 pairs. These methods will reduce the wear on your gloves and allow your gloves to keep their stickiness without breaking any of your league's rules.
Read More: "How to wash football gloves?"
[ BEST-SELLERS ]
MOST POPULAR