Football Gloves
What football gloves are best?
From football pads and helmets, mouth guards, and back plates to the cleats, football protection equipment has been updated many times over to keep up with the rising demands of athletes on the field, those passing the ball, and those tackling the opposing players to advance the team. So it's no surprise that football equipment has kept up with its hardware counterpart — football gloves in particular.
While there are many options to choose from — football gloves, receiver gloves, lineman gloves, padded receiver gloves, etc. — the best football gloves on the market right now offer unparalleled protection in the field while allowing the wearer to maintain complete dexterity, grip and ball feel. The article is for those who take their gear seriously, we've curated the list of the best football gloves for training with your team, championship games and everything in between.
Best Football Gloves 2023
1) Nxtrnd G1 Football Glove
 Pros:
Tacky Grips For Better Catches
Ventilated Material For Maximum Breathability
Offers Good Adjustability
Durable Material For All Weather Conditions

Cons:
The Tacky Grip Can Loose Performance Over Time

Nxtrnd continues their outstanding line of work with the G1 glove. So what makes these gloves special? It's the presence of the unique grip formula that NXT-Grip has incorporated into their gloves. The tacky formula allows for maximum hand protection and grip at all times making it extremely easy for the player to hold the ball with minimum effort.

Additionally, the G1 glove also provides warmth and comfort for extended game time, even in sub-zero weather conditions. Being breathable from the wrist to the fingertips, you'll also never have to worry about sweat buildup.

Designed to fit tight and grip anything that's thrown at it, Nxtrnd has essentially figured out how to perfect a football glove for maximum grip and breathability.
2) Nike Vapor Jet 7.0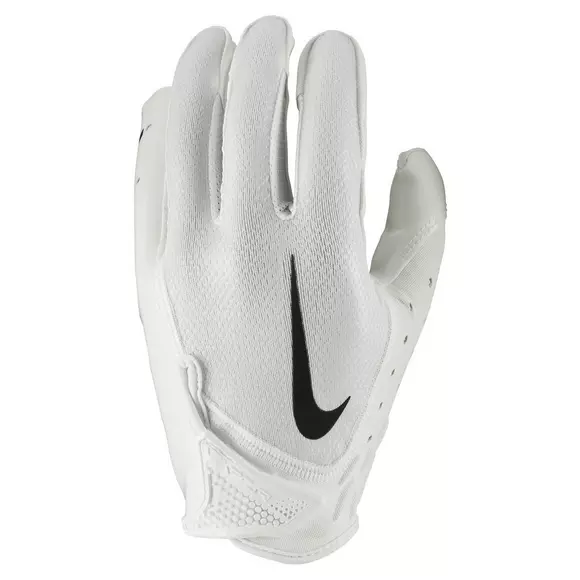 Pros:
Lightweight & Breathable For Great Ball Feel.
Stretch Mesh Provide High Flexibility
Perforated Material Allows Great Ventilation
Very Good Finger Protection
Cons
:
Thin Material Is Less Durable
Perhaps one of the greatest sport brands ever, Nike is known for its use of high quality synthetic materials. Over the years, they have made it a point to include the latest material technology in all the products they produce, especially noticeable in their Vapor Jet football gloves.

The Vapor Jet gloves are extremely thin, making them lightweight and very breathable, but may not be as durable as thicker material gloves. Featuring a mesh knuckle construction, providing better flexibility for your fingers and less material stress, and thus, increasing lifespan.

In addition, a wide and adjustable wrist wrap allows great mobility and meshed synthetic material allows high ventilation to prevent overheating of the hand. In terms of grip, the Vapor Jet gloves are made of Magnigrip that delivers solid grip and long lasting durability.

On the other hand, the only downfall of these gloves is the wrist section which is said to have poor protection.

After all, Nike is highly recognized in the sports industry as being the leaders in design. For those seeking a great football glove that provides protection, comfort and great grip, the Vapor Jet model is for you.
3) ADIZERO 11 Gloves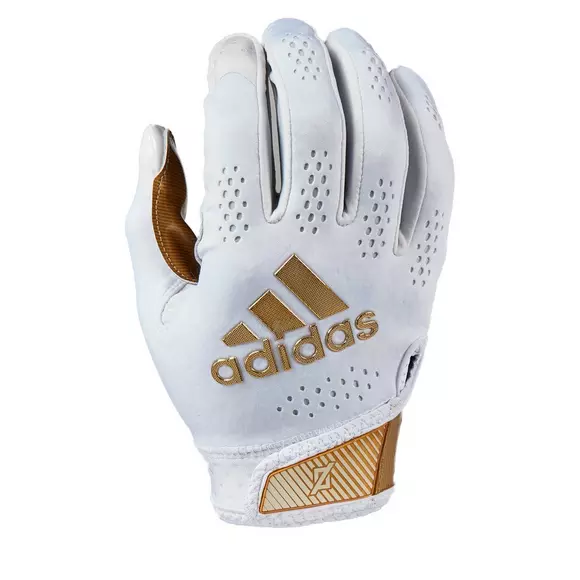 Pros:
Great Grip & Performance
Utilizes The Latest Lightweight Synthetic Material
Reinforced Wrist For Stability
Features Vented Mesh Across The Fingers For Maximum AirFlow
Cons
:
More Costly Than Other Brands
Focused on making the most lightweight gloves, Adidas has been making waves in the football industry. By incorporating highly ventilated compression fabrics with their seamless GripTack palm, this glove delivers unparalleled fit, protection and breathability.
Adidas multi-directional fabric perfectly stretches and adapts to the shape and structure of every hand providing an excellent fit while its unique knitted Clima-cool material delivers structure, support and hand breathability for optimal performance and protection from harsh weather conditions.
What makes a good pair of football gloves?
Initially designed to protect players against the cold weather while playing during the winter months, nowadays football gloves have since evolved to lessen the occurrence and severity of hand injuries while providing extra grip and comfort when snatching balls midair.
Before ordering a pair of football gloves, you must first know what you need. The following list will help you determine and choose the best glove that suits your specific set of circumstances.
Tackiness/Grip Quality
Having the ability to hold on to the ball and control it is one of the most important skills in football. Under all circumstances, the football should never leave your hand unless you absolutely want it to.
To help keep the ball in your hands, gloves that offer traction do the perfect job. In fact, the right gloves will feature tacky materials on the palm of the hand. This stickiness can be obtained by silicone patches and different patterns that better grip the balls leather material.
Tackiness is especially important for skill positions that demand high dexterity and the ability to catch and hold the ball. A good glove grip will greatly improve your ability to land passes and complete routes.
Weather Resistant/Great Protection
A football player's most important tool is their hands. When you're the main target out on the field, it's important you try your hardest to protect that most important tool.
To help protect your hands, most football gloves will feature added layers of padding on the outer portion of the hands and is some cases, on the back of the hand as well. Gloves also need to be weatherproof to allow better performance in all weather conditions
Especially important for lineman, added padding in gloves is the first thing a good pair of protective gloves should feature. A pair of lineman gloves will feature sturdy leather pads on the back of the hand and extending all the way to a portion of the wrist to prevent impact injuries and provide bending resistance.
Comfortable/Flexibility/Dexterity
On the field, you need to be able to perform at your best. That being said, you need to be able to flex your fingers, feel the ball and move comfortably at all times during a game. A well-made pair of football gloves will not hinder your ability to perform your role to its fullest and remain extremely comfortable to wear at all times.
For skill players, gloves should not be thick. Thinness is needed to allow players better detection and grip of the ball during the heat of a game. Gloves that hug the contours of the hand and give the hands a natural sensation are extremely important but can sometimes cause problems in cold weather conditions.
For lineman players, the added padding will reduce the natural hand-ball feel but provide the much needed warmth as the season progresses through the fall months. During the warmer summer months, we recommend half-fingered gloves to remedy the reduced dexterity situation.
Ventilation/Durability/Wash-ability
Last but not the least, no one wants sweaty hands when they pull off their gloves. When wearing tight fitting gloves, it is inevitable you start sweating during those intense ball-rushing moments. This is where comfortable, lightweight and breathable fabric comes into play.
A well designed pair of football gloves will feature adequate ventilation to improve ventilation and airflow towards your hands keeping them dry at all times. Also, your gloves should be made of thin and tear resistant materials. Materials that are tear and abrasion-resistant will ensure continued protection during the game, while the improve ventilation will reduce sweat and bacteria build-up.
Another important aspect of well-made gloves is their ability to withstand multiple washing cycles and must not lose the stickiness (for skill players) or their stiffness (for lineman players).
Benefits of wearing the best football gloves
Plain and simple, football gloves produce results. A good pair of gloves ensure better performance and provide the extra edge over your opponents. Primarily, football gloves protect against bone and ligament injuries, as well as cuts and abrasions. This additional layer of protection gives players the confidence and ability to push themselves to the maximum while mitigating damage.

Conclusion:

You should look for gloves that are specifically designed for your position. In general, glove selection is relatively simple. Lineman players need gloves with reinforced padding for added protection when holding of opponents. Skill players need thin gloves with tacky and sticky palms for improved ball feel and handling. Players that defend the team but also handle the ball need a hybrid glove.
Read More:
[ BEST-SELLERS ]
MOST POPULAR