people are viewing right now
Engineered for protection, ease of speech and breathability. Featuring a multi-layer design and ultra-lightweight materials. The RUSH™ is a better fitting and more comfortable mouthguard. See Fitting Instructions Here
DETAILS
Engineered for protection, ease of speech and breathability. Featuring a multi-layer design and ultra-lightweight materials. The RUSH™ is a better fitting and more comfortable mouthguard. See Fitting Instructions Here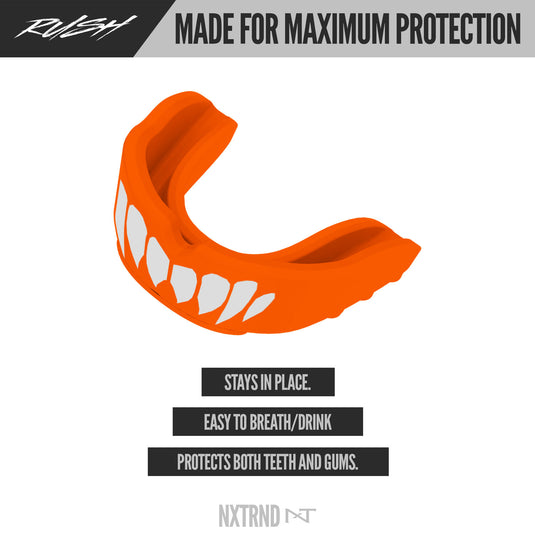 MOUTHGUARD SPECS
TP-EVA – ultra-lightweight & provides more comfort than any other mouthguard material on the field.
Reinforced Bite Zones – strategically located to improve the mouthguard's performance.
DESIGNED FOR CONTACT SPORTS
Multi-Layer Material System – Featuring a soft moldable inner core, along with a robust exterior liner. This system results in a better fitting and more comfortable mouthguard.
Air Channel – Incorporating a low profile, more comfortable breathing configuration.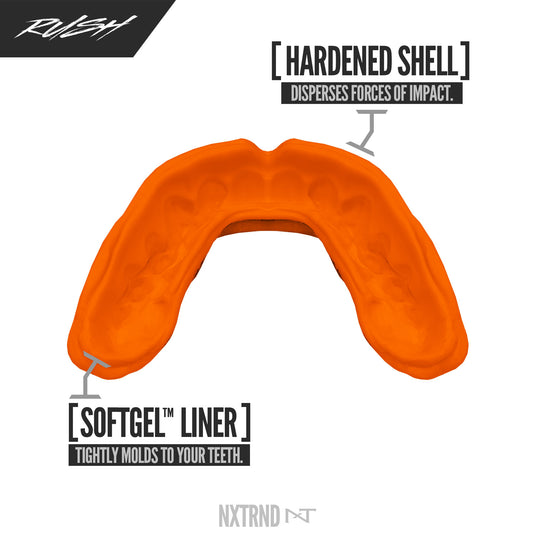 Comfortable & fits great!
Playing Qb you need to be able to talk with a mouthpiece & this one Molds to your teeth great! Comfortable & able to call Cadence!!🏈🤘🏆
Great price great quality
It fit perfectly u can make it fit how u want it to great thing to buy for sports
Easy to mold and comfortable!
Overall, I would highly recommend the Nxtrnd mouthguard to anyone looking for a comfortable, easy-to-use, and effective solution for protecting their teeth during sports or other physical activities.
Perfect mouthpiece for football
This mouthpiece is so perfect for football, it's so easy to mold it and very easy to talk and communicate with it on the field.
Great Mouthgard!
Item exactly as described! Fast shipping!